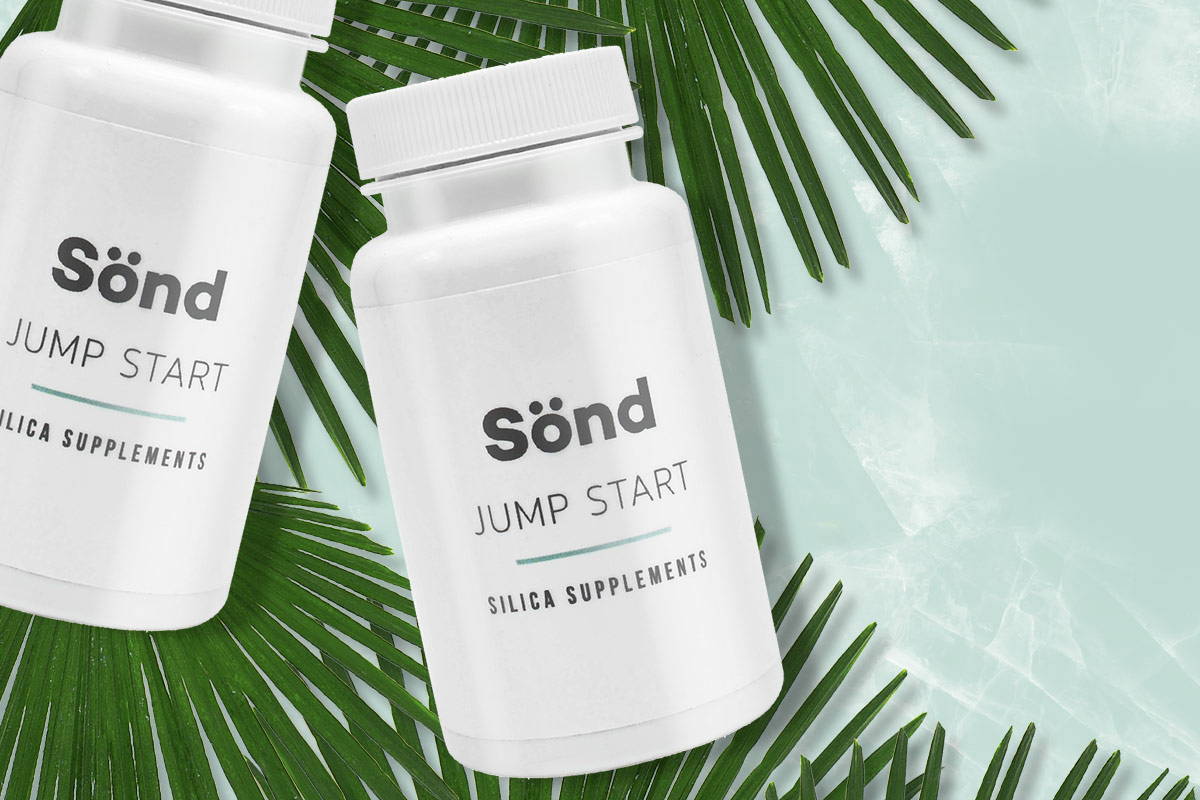 Silica Mineral Supplements
Supercharge your alkalinity and collagen production with this energising formula of Silica, SSC, Vitamin E, Calcium, Folic Acid, Vitamin D3 and Magnesium.
Formulated with antioxidants and the essential minerals Silica, Magnesium and Calcium, these capsules are skin nourishment from the inside out, for that healthy and radiant feel good alkaline glow.

Everyone, but especially those of us with sensitive skin! Customers with acne, eczema, rosacea and reactive skin have seen great results.
The products focus on improving the health of our skin cells, creating healthier, happier skin.
Healthy Cells For healthy Skin
At Sönd, we believe that our bodies (and our cells) are healthiest in an alkaline state. Our products keep our deepest skin cells in their natural pH range for:
Hydrated Skin:
Increased Oxygen allows our cells to absorb more water.
Glowing Skin:
Improved blood flow and helps skin to glow.
Healthier Skin:
Increased cell regeneration produces fresher looking skin.
Scroll Right to See More >>
"Within four weeks my skin had changed so much!! No more bad cystic acne. I actually feel comfortable going out without makeup now, which I hadn't felt that way for over 10 years!" - Natalie
"I have suffered from rosacea since I was in my late 20's. My skin felt good from day one with Sond. It felt smoother, less irritated and hydrated all day. My redness is much reduced. No irritation and no break outs! - Suzanne
"What I love about this range is that my skin never feels tight or dry and I find that my make up stays put and looks better for longer. My skin has changed hugely since using the products." - Paula
"My skin has calmed down a lot since using the Sönd products and I have very irritable skin.
My skin looks very moisturized after I apply makeup and does not make my skin greasy." - Ieva
"When I look at my rosacea it seems to have calmed down which makes me very happy. Since using the products I have had lovely smooth skin and not had any reactions to them at all." - Danielle
"Sönd products have really given me hope that I don't need to use harsh, synthetic, chemical-laden products to improve my skin; and that there is a way to overcome the unfortunate consequences of sensitive skin! - Colette
"From the very first time I tried the Sönd range I noticed a difference, my skin felt soft and hydrated and it immediately calmed the redness of my breakout. - Cathrine
"The products keep my skin feeling clean and fresh throughout the day.

My skin is now a lot clearer and I feel like my skin tone has evened out, some of my red scarring has also decreased." - Emma
Take two capsules every morning with a glass of water before breakfast.

Sodium, Magnesium (Tri-Magnesium Dicitrate), Silicon (Bamboo Shoots Extract 75% Silicon), Calcium (as citrate), Vitamin E (DL Alpha Tocopheryl Acetate), Vitamin D3, Folic acid. Capsule case: Hydroxypropyl Methylcellulose and Gellan Gum.
STILL NOT SURE? CHECK THIS OUT!
We're so confident in our products that we offer a 'Love them or return them' policy and we won't even take payment upfront.
For a small company we know that's a risky way of doing business, but we really believe in our products, and our lovely customers do too.
FREE standard delivery across UK and Europe
for orders over £50.
Order today and pay in 30 days
Select 'Pay Later' on the payment page at checkout
Love them or return them
If you don't love our products use our free returns service.
Liquid error: Could not find asset snippets/spurit_occ-product-snippet.liquid
UK

Standard: £2.50
First Class: £3.50 - Free for orders over £50
Europe
Special Tracked & Signed For: £3.50 - Free for orders over £50