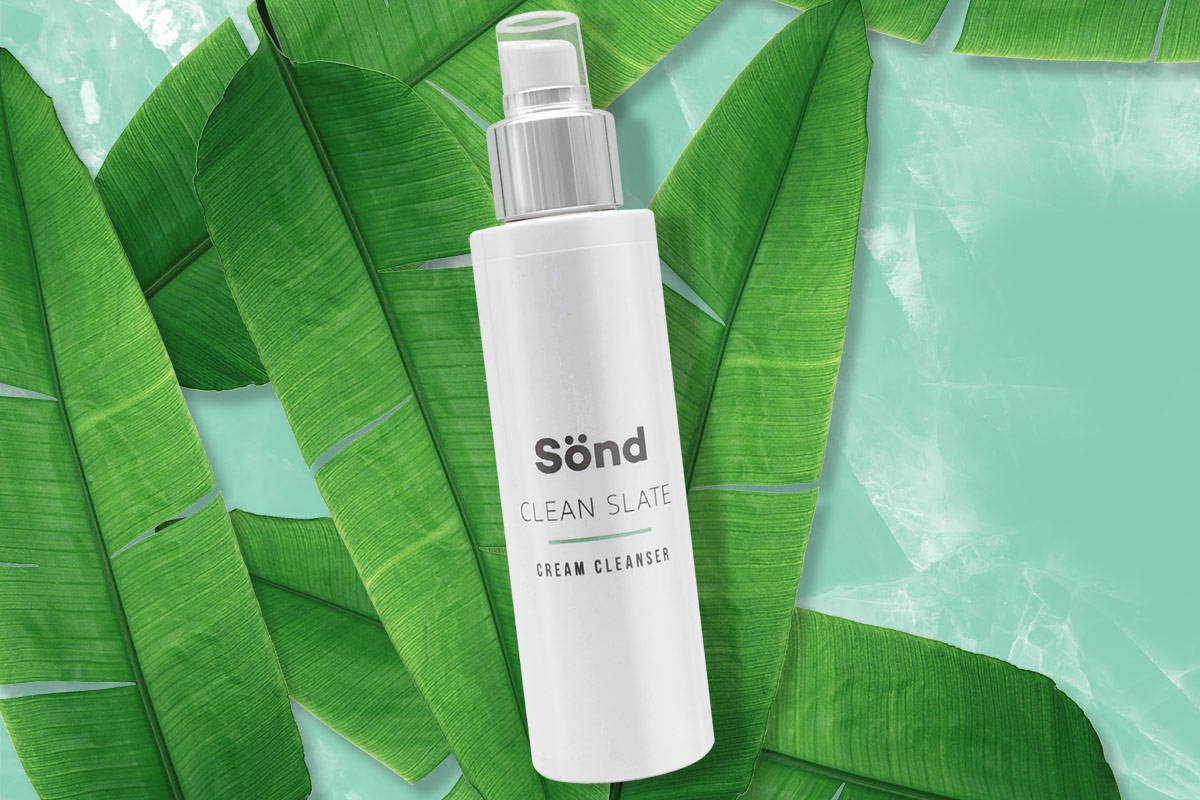 Everyone, but especially those of us with sensitive skin! Customers with acne, eczema, rosacea and reactive skin have seen great results.
If you want your skin to feel clean and fresh without feeling dry, then this is the cleanser for you.

Shea and Cocoa butter lift off impurities without stripping away your skin's essential moisture, while extracts of Chamomile and Marigold will soothe and calm your skin for a healthy glow.

STILL NOT SURE? CHECK THIS OUT!
We're so confident in our products that we offer a 'Love them or return them' policy and we won't even take payment upfront.
For a small company we know that's a risky way of doing business, but we really believe in our products, and our lovely customers do too.
FREE standard delivery across UK and Europe
for orders over £50.
Order today and pay in 30 days
Select 'Pay Later' on the payment page at checkout
Love them or return them
If you don't love our products use our free returns service.
Healthy Cells For healthy Skin
At Sönd, we believe that our bodies (and our cells) are healthiest in an alkaline state. Our products keep our deepest skin cells in their natural pH range for:
Hydrated Skin:
Increased Oxygen allows our cells to absorb more water.
Glowing Skin:
Improved blood flow and helps skin to glow.
Healthier Skin:
Increased cell regeneration produces fresher looking skin.
Use the Cream Cleanser daily to achieve a balanced and clear complexion.
Gently massage a small amount of cleanser onto your face and neck, dissolving makeup and lifting daily grime. Wash the cleanser off with warm water. For a deeper and more thorough cleanse, rinse a soft cloth or cotton pad in warm water, squeeze, and then use it to gently wipe away the cleanser.
Rich in Vitamin E, it absorbs quickly into skin to nourish, moisturise and sooth inflammation.
High in antioxidants, it nourishes skin while fighting off free radical damage to the skin.
Soothes skin with anti-inflammatory and properties and reduces breakouts and minor scars.
Skin conditioning and anti-inflammatory, it is also known to help skin repair.
Aqua, Helianthus Annuus Seed Oil, Butyrospermum Parkii Butter, Theobroma Cacao Seed Butter, Glyceryl Stearate, Cetearyl Alcohol, Glycerin, Prunus Armeniaca (Apricot) Kernel Oil, Simmondsia Chinensis (Jojoba) Seed Oil, Sucrose Stearate, Sodium Stearoyl Glutamate, Aloe Barbadensis Leaf Juice Powder, Calendula Officinalis Flower Extract, Coco-glucoside, Coconut Alcohol, Tocopherol, Xanthan Gum, Benzyl Alcohol, Lactic Acid, Dehydroacetic Acid, Parfum; Lavandula Angustifolia Flower Oil, Anthemis Nobilis Flower Oil, Citrus Nobilis Peel Oil, Geraniol, Limonene, Linalool.
customers share their stories
Scroll Right to See More >>
"Within four weeks my skin had changed so much!! No more bad cystic acne, the scarring was going, there was no dry skin or psorasis and the small but deep frown lines on my forehead were gone!
I actually feel comfortable going out without makeup now, which I hadn't felt that way for over 10 years!" - Natalie

"I have suffered from rosacea since I was in my late 20's. My skin felt good from day one with the Sond products. It felt smoother, less irritated and hydrated all day. My redness is much reduced. No irritation and no break outs!
My skin feels better than it has done in many, many years and I love my skin again. I am sold on Sond!" - Suzanne

"What I love about this range is that it continues working throughout the day, my skin never feels tight or dry and I find that my make up stays put and looks better for longer.
My skin has changed hugely since using the products. The main change being that it never looks dry or scaly. My skin looks brighter and younger." - Paula

"My skin has calmed down a lot since using the Sönd products and I have very irritable skin. It now feels soft and glossy to touch.
My skin looks very moisturized after I apply makeup and does not make my skin greasy. I've also noticed that scabs from pimples heal very quickly." - Ieva
"When I look at my rosacea it seems to have calmed down which makes me very happy.

Since using the products I have had lovely smooth skin and not had any reactions to them at all. 
I would definitely recommend them for rosacea sufferers." - Danielle
"Sönd products have really given me hope that I don't need to use harsh, synthetic, chemical-laden products to improve my skin; and that there is a way to overcome the unfortunate consequences of sensitive skin!
I really feel like my skin is on the road to recovery - and it's all thanks to Sönd!" - Colette

"From the very first time I tried the Sönd range I noticed a difference, my skin felt soft and hydrated and it immediately calmed the redness of my breakout.
My skin was hydrated and radiant throughout the day, and I noticed my makeup applied better! Within the first week my skin cleared up and I was just left with the odd pimple." - Cathrine
"The products keep my skin feeling clean and fresh throughout the day.

My skin is now a lot clearer and I feel like my skin tone has evened out, some of my red scarring has also decreased." - Emma